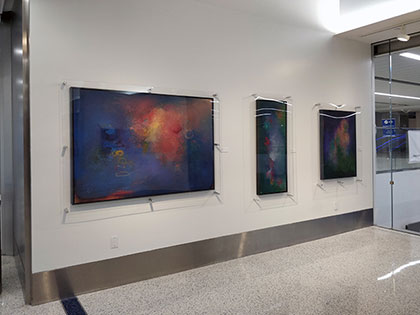 Los Angeles International Airport (LAX) is proud to announce the installation of three new art exhibitions for the traveling public to view. The artwork, presented in partnership with the Los Angeles Department of Cultural Affairs, features works by two solo artists and one group exhibition. Guests will experience large-scale printmaking, sculpture, ceramics, painting and multi-media artworks that span three terminals.
"Los Angeles is home to the most dynamic local art scene in the country, and we are proud to host a thrilling range of new installations for guests to enjoy throughout 2022," said Sarah Cifarelli, Art Program Director, Los Angeles World Airports (LAWA). "These thought-provoking exhibitions bring a vibrancy of ideas, color and materials, and will enhance the experience for the millions of guests who will pass through LAX this year."
WATCH VIDEO
"Out of the Blue" curated by John David O'Brien is a group exhibition of paintings, ceramics, and mixed-media works featured in the Terminal 7 art gallery adjacent to the security screening area. The seven artists who are part of the group display experiment with unexpected pairings and use innovative techniques to demonstrate a mastery of color. Artists Kelly Berg, Richard Bruland, Sigrid Burton, Jennifer Faist, Yoko Iida, Jenny Okun and Soojung Park all are featured in the exhibit. The curator, John David O'Brien, is an artist and educator who currently lives and works in Los Angeles and in Umbria, Italy. "Out of the Blue" is on view for ticketed passengers through summer 2022.